Making Creams and Natural Cosmetics
(on line)
In the Natural Cosmetics course, you will learn step by step how to make natural cosmetics: creams, gels, toners, lotions, masks and solid shampoo. Create your own formulas for a complete body, facial, hands and feet, hair line.
✅ Diploma: At the end of the Natural Cosmetics Course, you will receive the diploma that certifies the completion of the training.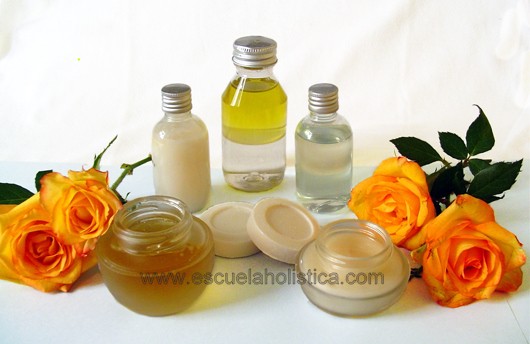 Aimed at:
Women and men without previous knowledge in cosmetology, presented in a practical way, clear, simple and complete.
COURSE PROGRAM
The practical module of the natural cosmetics course, details the cosmetic formulas with all feasible alternatives to make, in most cases, tripling the numbers of cosmetics to make. In the theoretical part, techniques are specified to adequately combine the active ingredients for each particular treatment and the properties of each one of them.
Practical Module Making Natural Skincare Products
Natural Cosmetics bases or excipients:
Base cream formula (video)
Base gel base formula (video)
Solid Shampoo Formula
Natural Body Cosmetics:
Cream for normal skin
Cream for dry skin
Cream for oily skin
Tanning cream
Anticellulite Gel
Reductive cryogenic gel
Massage modeling cream
Soothing after sun gel
Stretch marks emulsion
Gel for varicose veins
After waxing decongestive gel
Natural Facial Cosmetics:
Eye contour cream
Cleansing emulsion
Sensitive dry skin tonic
Oily skin tonic
Normal skin tonic
Biphase make-up remover lotion
Natural lip balm
Decongestive tonic
Men's after shaving lotion
Mask for acne skins
Anti-age mask
Natural Hand and feet Cosmetics:
Hand and nail care cream
Cream for skin stains
Rinse-free antibacterial hand gel
Refreshing-moisturizing foot gel
Spray for foot fungus
Cream for callouses
Natural Hair Cosmetics:
Hair line of Natural Cosmetic
Shampoo for oily hair
Shampoo for normal hair
Hair repairing oil
Anti hair loss lotion
Theoretical module
NATURAL COSMETICS AND AROMATHERAPY
Natural Cosmetics
Classification of cosmetics
Composition of cosmetics
Labeling of cosmetics
Excipients
Choice of the excipient
Cosmetic bases
NATURAL INGREDIENTS
Details of each of the uses and cosmetics properties
Essential Oil – Elaboration – Features-Description of uses in natural cosmetics
Vegetable oils – Elaboration – Features-Descriptions of use in natural cosmetics
Vegetable extracts – Elaboration – Features-Description of use in natural cosmetics
THE SKIN
Skin Physiology
The pH
Healthy habits for the skin
Face care
Vitamins for the skin
Male skin
Skin during pregnancy
The sun and skin, care and precautions
SKIN TYPES
Normal or balanced skin
Oily and seborrheic skin
Mixed skin
Dry skin
Sensitive Skin
BASIC ACE CARE
Cleansing
Toning
Moisturizing and hydrating
Eye contour
Masks
Scrubs
SKIN CONDITIONS
Cutaneous dehydration
Acne
Cellulite
Stretch marks
Varicose veins
Rosacea
Flabbiness
Wrinkles
Scars
Atopic dermatitis
HANDS and NAILS
Basic recommendations for hand care
Nail morphology
Nail care
Hand and nail care products
Fragile and brittle nails
HAND CONDITIONS
Hyperpigmentation
Hypopigmentation
Hyperhydrosis
HAIR
Hair life cycle
TYPES OF HAIR
Dry hair
Oily hair
Normal hair
HAIR CONDITIONS
Hair loss (alopecia)
Dandruff
Pediculosis
PRACTICAL CASES (final evaluation)
Trainer:
María Cecilia Podestá, who specializes in natural cosmetics, wrote the book " Cosmética Natural y Cuidados Esenciales", Editorial Formación Alcalá (Spain) and 43 notes on this subject for Mujer Hoy magazine (Spain), and offering distance learning courses in different languages.
Course Contents:

» The course is entirely online so that you can do it at any time, any day of the week.
» You can download the modules from the web campus, which can be printed or read from an electronic device or computer.
» From the first day, you access the entire schedule so you can manage your time according to your time availability.
Duration:
The Natural Cosmetics course is designed to last four weeks. However, students may spend more or less time completing the course, depending on their available time.
Tutoring:
The trainer will accompany students during the course. They can consult and verify the formulas they create by e-mail.
Diploma:
In the last week of the course, the trainer suggests some practical cases to clarify the last questions, if any. After solving the practical cases, students receive a diploma that certifies the course completion..
Fee and payment:
The Natural Cosmetics course – Making Creams and Natural Cosmetics fee is $ 120 (american dolar), for the complete training.
The price includes training, tutorials, and the diploma after course completion.
➤ Pay Now | Enrollment Procedure | Queries |